Celebrating 10 years of DJAARA's Recognition and Settlement Agreement
From 11 – 18 November, DJARRA embark on a journey of reflection and celebration, hosting a series of events, activities, and gatherings through our celebratory YAPENYA program.
YAPENYA = to sing, to dance, to gather, to reflect, to celebrate!

Now is the time for Dja Dja Wurrung to celebrate and reflect on significant achievements over the past ten years. As we come together in November to celebrate, we do so in honour of our Ancestors, with gratitude for the wisdom of our Elders, and with a profound commitment to creating a brighter path for the next generation.



Learn more: https://djadjawurrung.com.au/galka-our-organisation/yapenya/
Celebrate with us!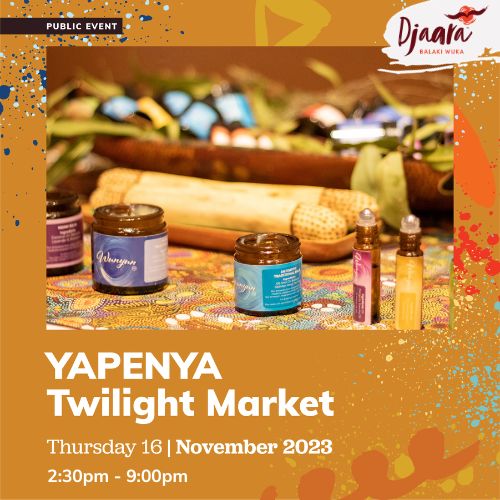 YAPENYA – Twilight Market
Thursday 16th November 2023
2:30pm – 9:00pm
Dudley House (outside)
60 View St, Bendigo
YAPENYA Twilight Market will feature art, craft, jewellery and more from Dja Dja Wurrung and other First Nations artisans and craftspeople.
You can also grab a feed from the food trucks and watch the yabby races.
Come along and support First Nations businesses.